The Research Group for Baroque Ceiling Painting in Hungary was established in 2008 by 9 art historians, representing 4 institutions: the Department of Art History of the Péter Pázmány Catholic University (Piliscsaba), the National Office of Cultural Heritage (Budapest), the Institute of the History of Art of the Hungarian Academy of Sciences (Budapest) and the Székesfehérvár Bishopric Museum. The Research Group is hosted by the Péter Pázmány Catholic University.
The purpose of the research programme, funded by the Hungarian Scientific Research Fund (OTKA), is to build a digital photo database and iconographic corpus of baroque fresco painting in (post-Trianon) Hungary, as a contribution to the work of the international Research Group for Baroque Ceiling Painting in Central Europe, established in 2006.
Due to historical and confessional reasons (i.e. Ottoman occupation and high proportion of Protestants) the number of baroque frescos in Hungary is relatively small: currently we have knowledge of around 250 ecclesiastical and secular buildings in Hungary (predominantly in the Transdanubian area and in North-East Hungary - see the map ) which are decorated with 17-18 century wall and ceiling paintings, and further 120 destroyed or overpainted baroque frescos are known from archival sources. These circumstances enable us to target the complete cataloguing of all the existing and destroyed baroque frescos and to create an iconographic corpus of baroque fresco painting in Hungary.
Although the research of the subject has achieved significant result in the past decades, we are facing a number of further tasks to be fulfilled (monographic research, questions of attribution, thematic analysis) that requires a corpus of the material accompanied by appropriate photo documentation.
During the first two years of the 3-year (2008-2011) research project systematic digital photo documentation will be made of all the existing baroque frescos in filed trips. The 25-30.000 photos will be processed in a searchable image database by adding thesaurus-based descriptive data to the photos (place name, artist name, date, iconographic keywords). In the catalogue section of the database detailed description will be made of all the frescos, summarising the available information and adding detailed thematic analysis, i.e. reconstruction of the iconographic program of the works, following the scheme elaborated by the project entitled Corpus der barocken Deckenmalerei in Deutschland. We intend to publish the iconographic corpus also in book format.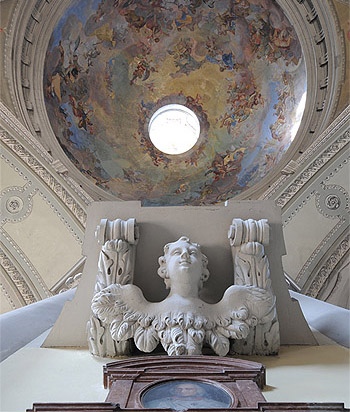 Franz Anton Maulbertsch
Holy Trinity and Apotheose of Virgin Mary among All Saints
Vác, Cathedral, dome fresco, 1770-71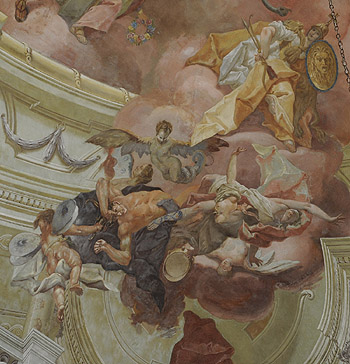 Johann Lucas Kracker
Victory of the Virtues over the Vices
Aszód, Chateau Podmaniczky, ceremonial hall, 1776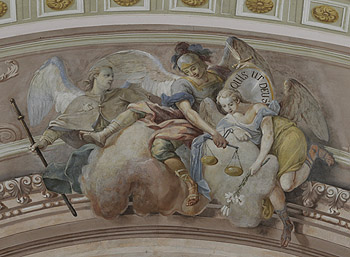 Stephan Dorffmaister
Archangel Tobias, Michael and Gabriel
Nyúl, All Saints parisch church, 1786